| | |
| --- | --- |
| Junko Yoshida | January 28th 2014 |
EE Times
In the results posted Friday for the fourth quarter of 2013, Samsung Electronics reported an operating profit of 8.31 trillion won ($7.7 billion), which missed analyst expectations by a whopping 20%.
Samsung also reported its first quarterly operating profit decline in two years - an 18% drop from the $9.4 billion it reported for the third quarter. Though it posted a record $54.95 billion of revenue, the industry is focused now on its potential growth limits in the coming quarters.

The Korean company also issued a warning about anemic earnings in the current quarter. It's blaming "weak seasonality" in the IT industry early in a calendar year. It expects performance to pick up in the second half, but admitting a disappointment in advance is hardly good news.
Nobody is predicting the beginning of the end for Samsung, but this might be an opportune moment to compare its situation today with Nokia's back in 2007. Today the mobile division is responsible for more than half of Samsung Electronics' revenue and profit. Further, Samsung's share of the global smartphone market is more than 35%, and Nokia's share peaked at 39% in the third quarter of 2007.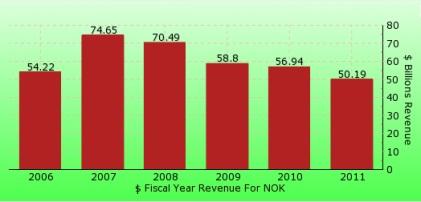 Today, the prevailing analysis of Nokia's downfall says the Finnish mobile company didn't see the emerging smartphone trend, causing it to hang on to feature phones too long. It's interesting to look back on the history, though. Back then, analysts were less concerned about Nokia's lack of presence in the North and South American markets. They were betting on its feature phones to capture the rising demand from non-US markets.
Analysts even talked about Nokia's ability to manufacture inexpensive cellphones in China and India profitably. They told The New York Times in 2007 that it would "help the company build on its already sizable lead over its challengers -- Motorola, Samsung and Sony Ericsson -- whose combined market share barely equals that of Nokia."
Obviously, it wasn't just Nokia that didn't see the smartphone tsunami coming -- at least in 2007. Analysts missed it, too. Moreover, they underestimated the power of China's OEMs and whitebox vendors. Their ability to churn out a host of mobile phones at a much lower cost and (more importantly) much faster turned Nokia into the biggest loser in the global feature battle.
Every investor, every analyst, and every reporter is in the business of hunting for the next big thing. Knowing what will come after the current smartphone boom should help predict Samsung's future. Though the Internet of Things and wearable devices are the buzz of the moment, the jury is still out on both categories.
Drawing a parallel between Samsung today and Nokia in 2007, the key to the analysis is software. Can any company launched as a hardware manufacturer adjust to today's more software-driven hardware business?
Nokia's Waterloo wasn't just smartphones or China. It was an inability to transform its mobile hardware-oriented handset business and develop a real understanding of the software-intensive future. Remember that Nokia was fully aware of the software trend. It invested in a host of software companies and technologies, including Symbian, Meego, and Navteq. But in the end, the more software assets Nokia amassed, the less focused it became. Last year, it announced that it would drop support for Symbian and Meego applications, despite having pledged its troth until 2016.
Samsung also pays lip service today to the importance of becoming a leading player in software. It says that 35,000 of its 65,000 R&D staff members are working on software. But name one stellar software investment Samsung has made in the last five years. Name one Samsung product whose performance is significantly differentiated by its software.
But don't ask me. I'm stumped.
Junko Yoshida is Chief International Correspondent of EE Times.